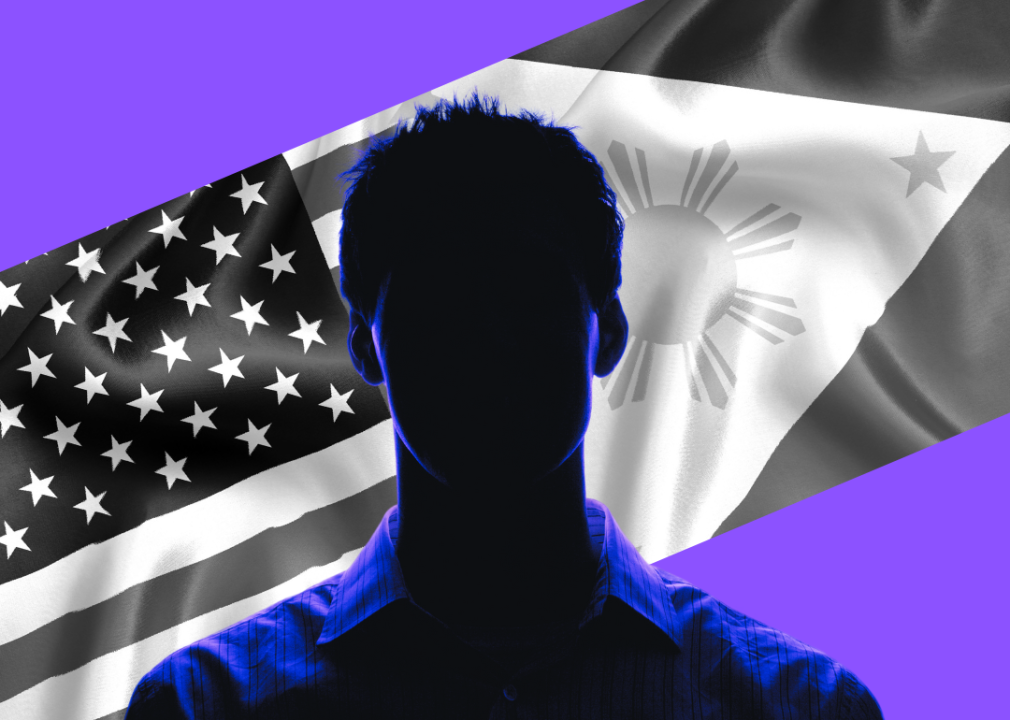 Photo Illustration by Stacker // Canva
"People think I'm half Hispanic. Even Filipinos do. But I'm full Filipino," Joey Estrella told Anthony Christian Ocampo in his 2016 book "The Latinos of Asia: How Filipino Americans Break the Rules of Race." "It's hard to pinpoint who's Filipino because there's not a specific look. I have friends that look Chinese or Japanese, and their last name's Gonzalez. And they're full Filipino!"
Not knowing who is who from the get-go is a common sentiment shared across Filipino Americans, the third-largest group of Asian Americans in the country, despite their large population. According to the Census Bureau, 4.4 million Filipino Americans live in the United States, placing them behind Chinese Americans (5.2 million) and Indian Americans (4.8 million).
Filipinos have also been present in the United States even earlier than its birth as an independent nation. They were the first Asians to land in the continental United States of America in 1587 at Morro Bay, California. Even today, U.S. Census data shows California overwhelmingly leads the states with the most Filipinos at 1.2 million.
Filipino Americans are prevalent in American society, but their presence is not as evident. Stacker explored the reasons why Filipino Americans continue to be less visible in American society and how that may be changing.
Outsized Filipino American presence in US health care
In the past few years, many Americans have almost assuredly come across Filipinos, especially in hospitals. As the COVID-19 pandemic gripped the United States, Filipino and Filipino American nurses inevitably worked on the frontlines, as they have done since World War II ended. The Philippines is the largest exporter of professional nurses to the United States, with over 150,000 Filipino nurses migrating to the U.S. since the 1960s, according to Catherine Ceniza Choy, an ethnic studies professor at the University of California, Berkeley. In 2019, 1 in 20 registered nurses in the U.S. trained in the Philippines, according to a journal article examining the nursing profession through an intersectional lens published in Gender, Work & Organization in April 2021. Since then, several generations of Filipino Americans have become nurses as well.
"We often think about the Philippines as an extension of the United States, as a colonial possession, as an extension of U.S. ideology regarding Manifest Destiny [a 19th-century American belief that the country had the God-given right to expand westward]," Choy said on a 2019 "Berkeley Voices" podcast episode, referring to how training Filipinos in American nursing began as a way to spread American culture to the Philippines, but also brought Filipino culture to the U.S. "But what we ought to think about is how the United States is also an extension of the Philippines."
Decades of US imperialism
Despite Filipinos and Filipino Americans' large population and centurieslong presence in the country, many Filipino Americans feel they've been erased from American history. As James Paligutan, author of "Lured By The American Dream: Filipino Servants in the U.S. Navy and Coast Guard, 1952-1970," wrote for the Washington Post, a key to understanding why is because of the history of U.S. imperialism in the Philippines.
The Philippines, along with Puerto Rico and Guam, came under American control as a consequence of the Spanish-American War, the first overseas conflict fought by the United States. Because of this "splendid little war," as then-Secretary of State John Hay called it, the archipelago on the Pacific now found itself with a new colonizer after 333 years under Spanish rule.
At the time, the Philippines was trying to remove its Spanish shackles, and so, conflict ensued. The Philippine-American War, which transpired from 1899 to 1902, resulted in as many as 200,000 Filipino civilians' deaths due to violence, famine, and disease. It ended as Filipino efforts tired. The Americans would eventually promise Filipinos democracy, which did not come until 1946.
American rule brought American ways. Spurred on by the idea of Manifest Destiny, Americans influenced the Philippines' education system materially, from elementary all the way to university levels. Until today, despite more than 170 languages and over 300 regional dialects, English is a prevalent form of communication in both higher learning institutions and media.
Now an American colony, the Philippines became a source of immigrant labor in various fields: agriculture in Hawaii and California and canning and fishing in Washington state and Alaska among them. The early farm workers, called "manongs," were barred from marrying outside of their race, owning land, and enjoying basic rights, yet more than 100,000 worked in the fields up and down the West Coast, from Washington all the way to Arizona.
After World War II, even more Filipino professionals became a part of the United States in the 1960s, after the passage of the Immigration and Nationality Act of 1965. Filipinos at the time were looking for an escape from the repressive regime of then-President Ferdinand Marcos. The United States, with its appealing economy and the Filipino facility for the English language, became one of the top destinations. Within a few years, 2 in 3 Filipino immigrants were professionals and technical workers rather than working in manual labor.
Centuries of Spanish colonization
U.S. imperialism is not the only reason for the Filipino American's invisibility. Much can also be attributed to its centurieslong history under Spanish rule. The Philippines was a Spanish colony from 1565 to 1898. In those three centuries, the Spaniards influenced Filipino culture, from the Philippine government to language.
As many as 4,000 words in Tagalog, the Filipino national language, have its origins in Spain. In a further act of erasure, Filipinos were forced to take on Spanish surnames in 1849 in an effort to improve taxation and take a better census.
In Ocampo's book, he explores how even though Filipinos are classified as Asian by the U.S. Census, they share more similar traits with Latinos, such as last names, religion, language, and food. These close relations resulted in them not necessarily fitting into the box people often associate with Asian Americans.
"The irony is that Filipino Americans were a central part of the creation of the Asian American movement in the 1960s," Ocampo told Stacker. "They, alongside Chinese Americans and Japanese Americans, were coming together on college campuses and communities and forming Asian American political action groups. They were producing Asian American publications; they were forming Asian American student organizations."
"But since the 1960s, people's understanding of who Asian Americans are has become anchored into East Asian Americans," Ocampo continued. "So when you ask the average American what an Asian person or Asian culture is, they're almost overwhelmingly going to think about something that's Chinese, Korean, or Japanese. They're not going be thinking about the Brown kid with the last name Rodriguez who goes to a Catholic church every Sunday."
Filipinos have also played major roles in labor movements. Filipino labor organizer and civil rights activist Larry Itliong worked closely with Mexican American labor leader and activist Cesar Chavez to form the United Farm Workers. Itliong's efforts have been overlooked, however, until the late 2010s, when a respected historian wrote a children's book about him that was published in 2018. His story has since been covered in multiple articles and even a musical.
Efforts to be seen and recognized
The Filipino American National Historical Society declared October 1992 the first Filipino American History Month as a way to commemorate the first Filipinos who came to the United States on Oct. 18, 1587. Since then, the achievements and history of Filipinos have been celebrated by local FANHS chapters, local community nonprofit groups, government organizations, and college student associations nationwide. But it wasn't until 2009 that the U.S. Congress officially declared October as Filipino American History Month.
Many Filipinos and Filipino Americans have contributed to various sectors in the country since then, like Benjamin J. Cayetano, who became the first Filipino American U.S. governor in 1994, and Lorna Schofield, the first Filipino American federal judge. In the nonprofit sector, Filipinos Advancing Creative Education supports the next generation of Filipino Americans through the creative arts, Search to Involve Pilipino Americans provides health and economic development programs, and Filipino cultural schools across the country are working to amplify Filipino culture.
Filipino Americans in food
Even in the food industry, Filipino Americans have worked hard to stand out to inform others about their culture, gaining industry recognition in the process. In 2023, three Filipino restaurants were nominated for James Beard Awards. However, a May 2023 Pew Research Center study found that Filipino (along with Indian) restaurants still remain underrepresented in the Asian food scene, with Filipino cuisine only making up about 1% of all Asian restaurants. In the past, some Filipino cuisine has even been seen as undesirable by some in the United States.
"For a long time, Filipino food was generalized as one of those 'Fear Factor' foods—it was only balut [a delicacy of fertilized duck egg] and other funkier dishes being highlighted," Paolo Dungca, chef and co-owner of Pogiboy, told Food & Wine in 2022. "Our cuisine is so much richer and more interesting than just that. It's not just a cuisine of extremes."
In September 2023, rapper Doja Cat released a song named "Balut," explaining on Instagram that "it signifies a bird that's being eaten alive" and referring to the unfolding debacle on X (formerly Twitter). Her statement drew criticism from the community, especially since the dish is actually cooked.
"Filipinos see it as a delicacy. Why is that not being conveyed in that way?" Tony DelaRosa, a Filipino American professor and author of "Teaching the Invisible Race: Embodying a Pro-Asian American Lens in Schools," told NBC.
Filipino chefs like Aaron Verzosa, the James Beard Award-nominated owner of Seattle's Archipelago restaurant, are beginning to change that. Verzosa told the Associated Press that, within the last five or 10 years, Filipino chefs have developed their own voice by showcasing their families, communities, and regions. "Having the craft and ability to make delicious food—obviously, that needs to happen to tell those stories," he said.
Foods like ube, a vegetable crop from the Philippines, have garnered mainstream attention. Filipino and non-Filipino chefs alike have used the purple yam in everything from cocktails to desserts to hamburger buns. American grocery chains like Trader Joe's even began selling ube-flavored ice cream, cookies, and pancake and waffle mix. While some have felt erased and seen it as an act of cultural appropriation, others in the community have expressed gratitude at the food being more widely shared.
Filipino Americans on the big screen
Filipino and Filipino Americans are beginning to make strides in Hollywood as well. According to Luminate's Entertainment Diversity Progress Report, representation for Asian actors increased in TV and film between 2021 and 2022. While the data doesn't include a breakdown, there are a few examples from past years that speak for itself. Dolly De Leon became the first Filipina woman actor nominated for a Golden Globe for 2022's "Triangle of Sadness." Universal Pictures' 2022 comedy flick "Easter Sunday," starring Jo Koy, became one of the first to be released by a major Hollywood studio featuring an all-Filipino ensemble.
Tremendous Communications, a public relations and marketing agency that worked on "Easter Sunday," was founded in 2020 by CEO Jeremiah Abraham—and has been doing a lot of work to uplift Filipino American voices in entertainment. Abraham, who has worked as a producer and marketing executive for over a decade in Hollywood prior to launching Tremendous Communications, said it's always been important for him to tell stories where Filipinos are being authentically valued.
"I felt like the best way for me to uplift Filipino people and culture—given my skill set and the value that I can bring—is through entertainment, film, TV, [and] stage … because that helps us reach the masses," Abraham told Stacker. "That helps us be understood and valued and accepted and included in an authentic way."
Journalist, filmmaker, and immigrant rights activist Jose Antonio Vargas—who authored 2018's "Dear America: Notes of an Undocumented Citizen" and founded the nonprofit organization Define American—cites the rise in young Filipino American artists in the entertainment industry like Olivia Rodrigo, who's made music history many times over since her 2021 breakout, and Ez Mil, the first Filipino American rapper signed to Eminem and Dr. Dre's record label, as fueling an "artistic renaissance" that has informed the public about Filipino culture.
"This country is going through a racial reckoning, a historical reckoning, and Filipinos are actually in the middle of that conversation—not at the periphery," Vargas told Stacker. "If there are 4.4 million Filipinos in the United States, then there are 4.4 million different ways of being Filipino in the United States. This artistic renaissance embodies that diversity."
Story editing by Carren Jao. Copy editing by Paris Close. Photo selection by Michael Flocker.